Bel Canto Preamplifiers
DACs
Digital audio is available in a variety of formats, decoding the digital files accurately is critical and sets the tone for your entire audio system. Bel Canto has been developing DAC technologies for over 20 years, focusing on providing the highest quality audio experience. Each e.One DAC is designed with unique features that provide optimized system control and performance, revealing the subtle detail that makes every recording more musical.


DAC 3.7 Control Preamp
Independent chassis separate power from the focused DAC function, creating a pristine environment to process signal revealing incredible detail and audio resolution. You'll hear deeper into the recording than ever before.

DAC 3.7 features:
- HDR Core is the result of 20+ years of engineering to refine the digital to analog process, and is comprised of 3 major components: Low Noise and Ultra Low Noise Master Clocks, Advanced Asynchronous Interfaces, and Dual Mode Low-Noise High Efficiency Power Supplies. HDR Core technology is fundamental to every e.One DAC and Integrated product, creating the most realistic, open, and defined musical experience possible.
- The VBL1 power system lowers the broad band noise floor, reduces AC power noise and improves the overall musicality of the DAC3.7. The VBL1 uses new linear regulator technology combined with a high isolation power transformer to deliver a focused, optimized single 12V output. This critical power stage allows the DAC3.7 to perform at its best with increased sonic resolution, low level dynamics, spatial information, harmonics and timbre.
- Designed to be functional and simple, the dual-functioning one knob interface is a joy to use. The single 4 digit display works with it seamlessly to access all basic functions in a few clicks. The included 36 button infrared remote allows instant command functions and display editing.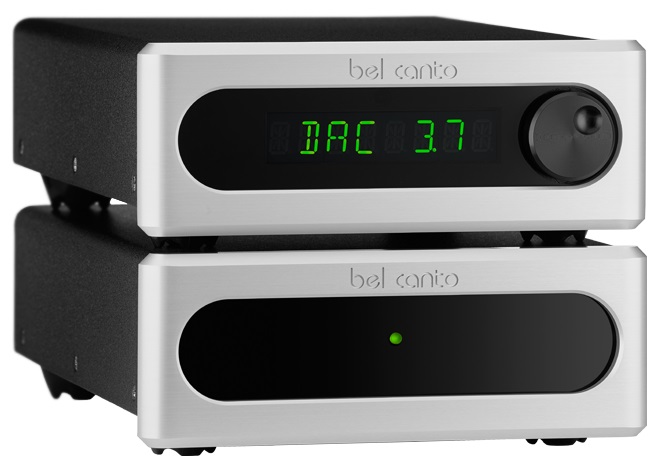 DAC 2.7 Preamp
Incredible audio performance, features, and flexibility, the DAC2.7 is musically open, detailed, and natural sounding.
- Class Leading 124dB Dynamic Range
- 24 Bit Volume Control
- 24/192 Asynchronous USB2.0
- Analog Input
- 5 Asynchronous Digital Inputs
- High Current Headphone Output Driver
- Remote Control
- Available in Black or Silver Faceplate
- MAC USB 2.0 compatibility and custom Windows USB 2.0 driver.



DAC 1.7 Control Preamp
Designed with the core building blocks used in each Bel Canto DAC, the DAC1.7 is musical, clear and detailed in sound with excellent features.