Conrad Johnson Preamplifiers
In the mid-seventies, two economists, friends and serious audiophiles - Dr. William Conrad and Dr. Lewis Johnson - were highly dissatisfied with the commercially available equipment of the time and were also perplexed and challenged by the readily apparent sonic differences among components in their own systems. Conrad and Johnson decided to systematically investigate by eveloping and refining a vacuum-tube preamplifier. The resulting conrad-johnson preamplifier was immediately recognized as a state of the art contender and catapulted Conrad and Johnson into the audio industry.

The most important legacy of conrad-johnson design's beginnings is the basic methodology which took shape in the course of the development of that first preamplifier. This methodology has enabled Conrad and Johnson to develop new products which have routinely been ranked among the most musically satisfying. Few other manufacturers have so consistently received such high praise for their products.



GAT Triode Preamplifier
The GAT Preamplifier embodies conrad-johnson's latest advances in line-stage preamplifier technology. We believe that it will quickly be recognized as the new industry-wide reference standard for line-stage preamplifier performance, a role filled for more than a decade by its legendary predecessor, the ART preamplifier. Like the ART, the GAT Preamplifier will be available in a numbered, limited edition of 250 units which will be sold through selected conrad-johnson dealers.

The GAT Preamplifier is a vacuum-tube, line-stage preamplifier that looks as good as it sounds. It is also notable for convenience and ease of use. The unit features input selection and level adjustment by microprocessor-controlled relays. Level and balance can be adjusted in 100 steps of approximately .7 dB per step. All functions can be controlled by the hand-held wireless remote control.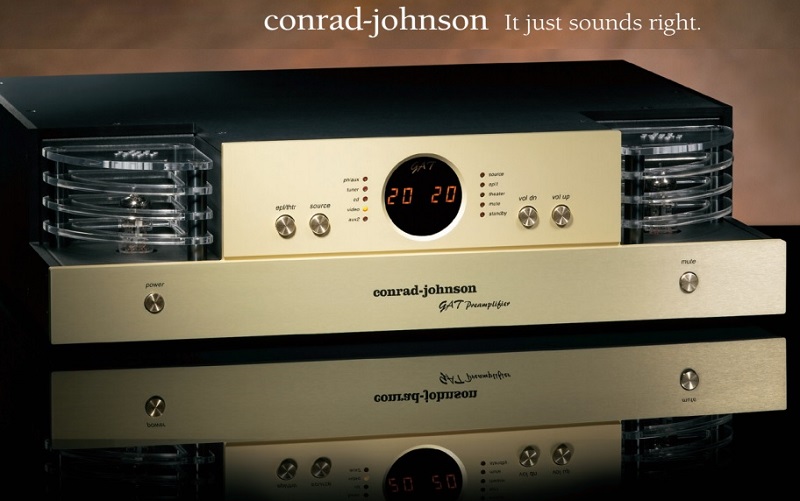 ET5 Enhanced Triode Preamplifier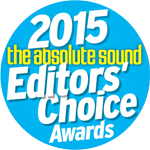 Introduced in 2009, the GAT Preamplifier continues conrad-johnson's dominant position atop the rankings of reference preamplifiers. An important benefit of pursuing state-of-the-art designs is that the circuits and techniques developed in our flagship products are frequently directly applicable to our entire line of products. In this instance, we have embodied the technology of the GAT Preamplifier in the more cost effective ET5 enhance triode line-stage preamplifier at a more affordable price.
---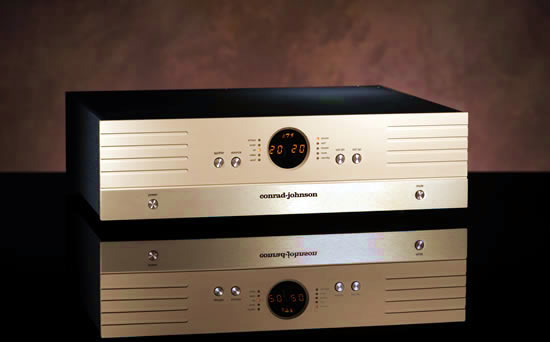 ET3 Vacuum-Tube Preamplifier
At conrad-johnson, development of our flagship products has traditionally led to important enhancements of our entry-level offerings. The ET3 preamplifier is a case in point. The ET3 line-stage is a "baby" version of our flagship line-stage preamplifier, the GAT. The family resemblance is much more than skin deep. With voltage gain provided by a triode vacuum-tube, the zero-feedback line-stage circuit of the ET3, along with its DC voltage regulators, closely replicates the circuit of the GAT. Finally, and especially noteworthy, the ET3 features a relay operated discrete stepped attenuator level-control circuit of the type found in the GAT and CT5, absent only the balance control function found in those more costly models.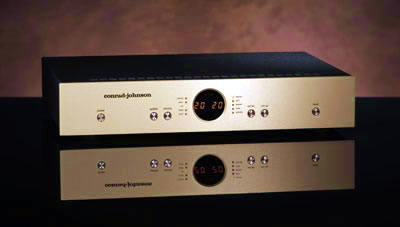 Classic 2 & Classic 2 SE Preamplifiers
The conrad-johnson Classic-2 vacuum-tube preamplifier honors this thirty-year heritage of musically accurate, moderately priced preamplifiers which have displayed the conrad-johnson name.

The Classic-2 faithfully reproduces the harmonic structure of complex musical passages, preserving the distinctive tonal character of each instrument and voice. The space of the sound stage and the ambience of the concert hall are conveyed in realistic, three dimensional perspective. Individual instruments are precisely located within that three dimensional space. Musical transients are reproduced naturally, with realistic impact, but without the artificial enhancement which characterizes so many "hi-fi" components. Never imposing its own distractions, the Classic-2 invites the listener to enjoy the musical performance.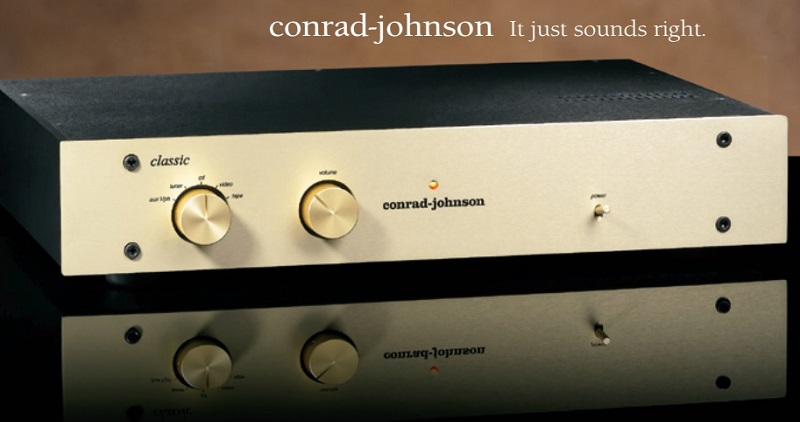 TEA2 Phono Equalization Preamplifier
The TEA-2 triode equalization amplifier is a vacuum-tube phono stage offering an extraordinary degree of musical accuracy at a moderate price. The audio circuit of the TEA-2 is comprised of two cascaded single-ended triode amplifiers. The circuit is a zero-feedback design, to eliminate the temporal inaccuracies that negative feedback introduces. RIAA equalization is established by a passive network between the two gain stages. This network has been carefully designed and has been implemented with precision (1% tolerance) parts to precisely track the prescribed RIAA equalization curve assuring absolute tonal accuracy. Careful implementation of this fundamentally simple circuit results in extremely wide bandwidth, and low distortion, without resorting to negative feedback. A high-current MOSFET buffer stage follows the second gain stage to achieve a low output impedance (less than 200 Ohms).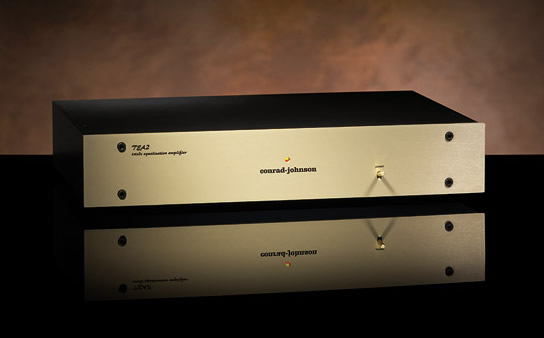 HD3 USB Digital to Analog Converter
The HD3 is an audiophile grade digital to analog converter for use with a computer based audio source. It is designed to exploit the advantages of the recently available high-definition digital source material, to be simple to use, and to establish that digital sources really can "just sound right".

The HD3 is designed to be as hassle-free as possible. Connect it to any available USB port on your computer with a standard USB cable, select the HD3 and you should be ready to play music in a matter of moments. It is designed to work with the drivers built into the operating systems of all modern PC, Mac, and Linux computers, so there is no need to struggle with installing drivers as there are none to install. Just select your favorite tunes from music stored on your computer, or pop a CD into your computer's optical drive, sit back and enjoy.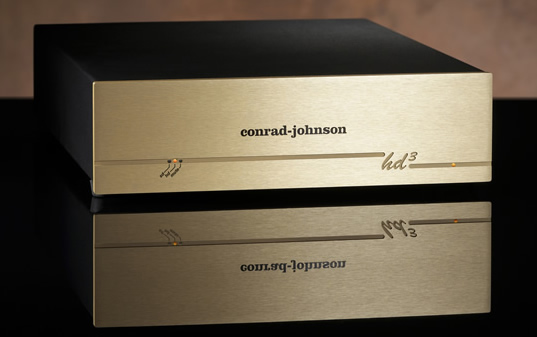 With its asynchronous data interface virtually eliminating jitter, the HD3 will transform your computer into a high-end CD player competitive with the very best audiophile quality units on the market. But it will do much more than that. By "ripping" your CDs to the computer you can take advantage of software that makes multiple read passes to virtually eliminate data errors, for superior playback. You can store an entire music collection on the hard-drive of your computer, and use your choice of "juke-box" software to search for and select the songs or albums you want to play. Preserve your CDs from possible damage in handling by copying them to your hard drive and putting them away in safe storage. Imagine a couple of thousand or more CDs of music all contained in the space of a small computer. Better yet, the HD3 is designed to deliver better than CD quality material. It will decode up to 24 bit, 96k samples/second music files. These files are available for purchase by download from various on-line sources.

The conrad-johnson analog audio circuits are your assurance that the HD3 will deliver the full potential of these sources and in the end, the music playback will be musical. As expected from conrad-johnson, the circuits are simple and executed with quality parts. A high-end Burr-Brown delta-sigma dac was selected for the digital to analog conversion. This is the most musically satisfying 24/96 capable dac presently available. The analog signal is fed to our own audio circuits, executed with highest quality polypropylene capacitors and metal foil and metal film resistors. The digital circuits are powered by regenerating power from the USB connection itself, while the analog portion of the dac and the analog audio stage are powered by separate transformers feeding discrete dc voltage regulators, thus isolating the analog signal from noise imposed on the grounds and power supply legs of the digital circuits.