Synthesis CELEBRATION
Single-Ended 300B Mono Tube Amplifier

Form Synthesis Prime Series, The CELEBRATION Single-Ended 300B Mono Tube Amplifier is available for sale at Deja Vu Audio. All Synthesis audio components are available for audition in our listening rooms.
The legendary 300B power triode has long been the first choice of many serious music listeners because of the natural, emotional presentation of amplifiers using this power tube. Our design is carefully tailored to furnish ideal drive conditions for the output tube, opening the door to dramatic new levels of low-end articulation and dynamic excitement for single-ended 300B amplifiers. The Celebration provides full-bodied musical reproduction that you will appreciate for a long, long time. The result of our intensive research, the Celebration, is a completely modern amplifier dedicated to the timeless quest for musical enjoyment.

The Celebration is able of 10 watts in pure A class in single-ended configuration built around a 6SN7 on input stage and EL34 as driver. The power supply uses 5U4G tube rectifier circuit followed by a massive pi network using the highest quality caps and custom made choke. The Output transformer uses a double Hi-Grade Iron-Silicon for superb frequency reproduction and bandwidth. With this newly designed custom output transformer we are able to achieving highly delicate and precise sound reproduction faithful to the original recording.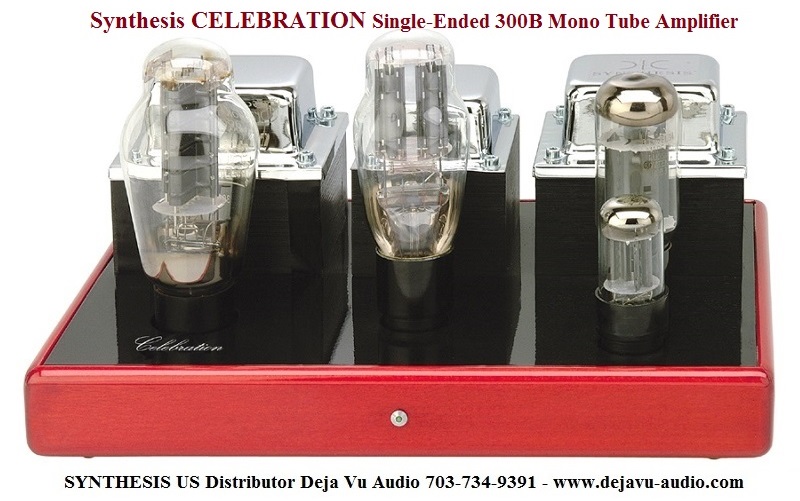 Synthesis CELEBRATION Single-Ended 300B Mono Tube Amplifier Specs